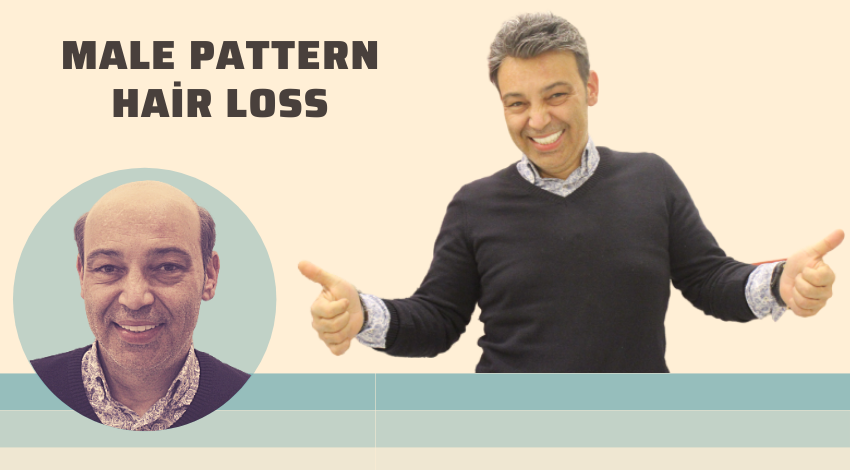 Prosthetic Hair Reviews - Androgenetic Hair Loss
S.M (USING PROSTHETIC HAIR 22 YEARS) 
I've been using my prosthetic hair for 22 years. I lost my hair at an extremely early age. 22 years ago, we encountered you while researching hair transplantation alternatives.We were so young, I've never worked with any other company, just your art made me happy. (Leyla PEKTAŞ) Your hair, cuts, combs made me feel very confident. These are very important advantages for people, especially for those who have lost their hair too early. If people who are 45-50 years old start to lose their hair, the situation may be different, but it is very bad if someone 16-17 years old starts to lose their hair. There are women who lose their hair too early. This is an important advantage without any surgery. without surgical intervention, you can give up at any time and we can say that the most natural solution. So I feel very comfortable, I have 50 grams of weight in my head, and I never feel it.  
Tabi bunun yanında, arada bir bakımlara gelmek gerekiyor, üniteyi saçları nasıl kullanacağınızı bilmeniz gerekiyor. You get an outfit, but if you wash it in a way other than the instructions on it, it shrinks and it's completely user error. These are sensitive spots so I think you're the right place. Under your leadership, that would be right to say, there was hardly anyone when you started this business. We were so young. There were a number of centers, but I thank you very much for keeping up with all the time and maintaining quality at the summit. These were the advantage of prosthetic hair. To the disadvantage, there's nothing I can say this much. 
*If you go to your treatments on time, 
*If you do what your doctor says, you can use it as much as you want without any inconvenience. In the end, people who have reached the age of 70-75 use this too. Both men and women. 
You can change the model of prosthetic hair. Do it short, do it long. I used to have long hair. Now i love it short.  
Most importantly, it is applied exactly as the original hair. And when I touch it, it gives me the feeling that I touch my own hair. Not like touching a foreign hair, extremely comfortable, easy, I wash like my hair, shampooing, breathing, water passes. It's important, people think it's a hat. The hat doesn't let air, but your prosthetic hair has air and water permeability. 
I've been using it for 22 years. If there was a problem, I wouldn't use it. You realize your hair is falling apart, you get prosthetic hair done after being bald. In fact this is a disadvantage because you get reactions of people. It is needless to wait being bald because you have your examples laying front of you, your dad, your grandfather, brother... Your hair is falling like them. Have prosthetic hair unit installed when it is early. There was a lot of shedding when i get my prosthetic hair done. People reacted like this; Oh you grow mustache? You dyed your hair? But no one sad you had a haircut. Did you lose weight? Did you gain weight? They said that I had a change but it was never hair-focused. All i try to say is do not be afraid of having Prosthetic Hair. You can ask others who get this done, they will all say the same as the reactions are never bad!