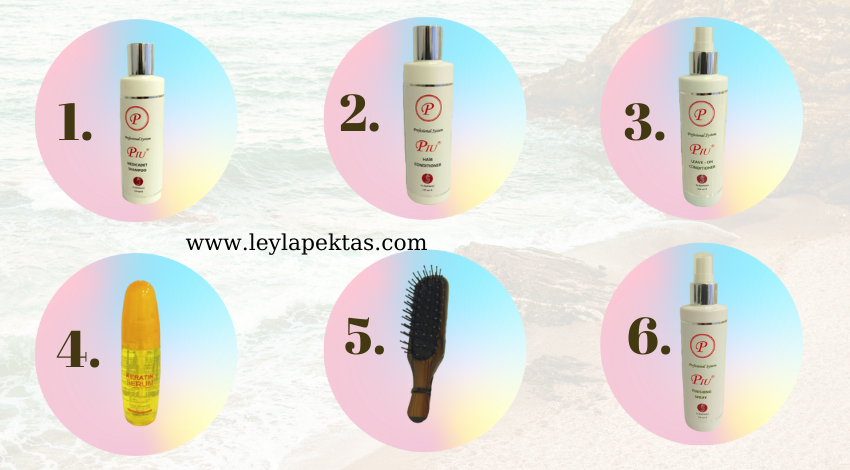 The first question that prosthetic hair users ask themselves is how is the care of the prosthetic hair, can I take care of my prosthetic hair myself? Is it a costly practice to care for prosthetic hair? Our Prosthetic Hair Specialist Leyla Pektaş answered your questions like these for you. With her 27 Years of Experience, you can find the most accurate answers to your questions about the care of prosthetic hair.
First of all, it should be known that prosthetic hair has a sensitive infrastructure. For this reason, the care you will show will directly affect the lifespan of your prosthetic hair. As Hair Hotel, all our prosthetic hair is made of real human hair. This also requires some maintenance periods. It is quite natural for a prosthetic hair to look shiny and healthy, if cared for in the right and safe hands. Prosthetic hair that is neglected or improperly cared for will have a lifeless and dull appearance.
What are the Materials Required for the Care of Prosthetic Hair?
1- Shampoo
2- Conditioner
3- Leave – on
4- Keratin Serum
5- Comb (Brush)
6- Fixing Spray
1- Shampoo: There are some important details that you should pay attention to when washing your prosthetic hair. Some of those;
- Instead of washing your hair with very hot water, you should wash it with lukewarm water.
-You should wash it by running the water downwards, not by mixing it.
- If your hair is not very dirty, it will be enough to shampoo once.
2- Hair Conditioner: It is very important for the use of your prosthetic hair. It allows your hair to be combed softer and easier. The conditioner should be rinsed with warm and plenty of water, just as we mentioned in the shampoo section.
3- Leave – on: It makes your hair easy to comb and look shiny. It is suitable for daily use. Does not require rinsing. It is recommended to be used away from the roots of the hair (For detailed information, you can contact our experts)
4- Keratin Serum: It makes your hair look calm and healthy. It also helps the hair to be easily combed by giving shine. It is enough to apply it to the ends of your hair.
5- Comb / Brush: Prosthetic hair has sensitive infrastructure, so it is very important to use the right comb. The slightest damage to the thin parts of the infrastructure, which we call mesh or lace, may cause your prosthetic hair to become unusable. We recommend ball-tipped combs as you can see in the picture.
6- Fixing Spray: If you need fixing while styling your hair, you should use special sprays for prosthetic hair. Incorrectly chosen spray, foam or other fixatives can cause your hair to look dull and fall out.
Note: After washing your hair, you should stay away from excessive heat so that your hair is not damaged during drying, you should first dry it with a towel and then dry it with a warm blow dryer.