Hair Hotel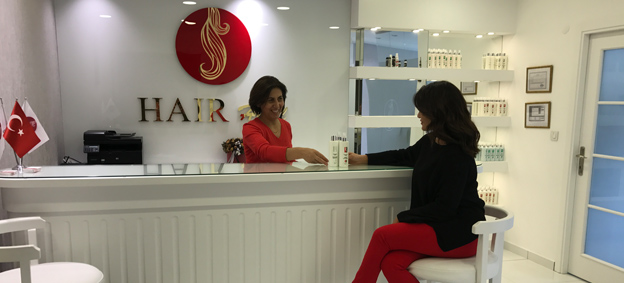 Hair Hotel Prosthetic Hair and Hair Simulation Center
Operating from a single center n Istanbul, is one of the leading organization in Turkey with its experience of more than 20 years at the point of solutions generated with respect to Hair loss problems without any Surgical intervention.
The most suitable solutions are generated and applied by our center for Women, Men and Children with respect to any and all kinds of Hair loss problems. 
Hair Hotel also offers highly successful solutions and suggestions for Hair losses as well as thinning Hair.
The secret of high success of Hair Hotel lies in its Knowledge, Experience, Sincerity and High Quality Standards with respect to generating solutions problems as well as in keeping up such Standards strictly. Hair Hotel maintains its success by working under the sense of Higher Responsibility and applying Sectorally current innovations.
Leyla PEKTAS, our founder, stepped into the sector in 1994 and founded Hair Hotel Prosthetic Hair and Hair Simulation Center in Istanbul in 2013 as a result of an experience of more than 20 years; within such short period of time, our company has covered a so remarkable ground with its Knowledge and Expertise, so that it has started to provide technical consultancy service, training and product support to many large and small companies.
We have a professional team, each member of which is a specialist in their field.
Our team consists of Technicians, who are the architect of customer happiness and satisfaction, and
Customer relations representatives, who increase the service quality, and
Administrative Personnel and Managing Directors, who always keep our Quality Standards up-to-date.
We, as the family of Hair Hotel, attach great importance to love, respect, interest, comfort and enjoyment to be provided to our Friends during the course of time they will spend at our Center.
We take the innovation-oriented sense of work as a basis in order to enhance such High quality standard that we have achieved through paying great attention thereto.
Hair Hotel is one of the best and most distinguished companies in Turkey; since:
•Your presence at Hair Hotel means that you are present in the safest family environment in Turkey.
•At Hair Hotel, you will be informed about the latest technical developments.
•Hair Hotel offers you the visuality and self-confidence, of which you have dreamed, on 100% basis.
•Hair Hotel contributes comfort and happiness to your life.
•Hair Hotel is your best and most powerful representative.
We, as Hair Hotel say that the first thing you need in order to regain your self-confidence and maintain the rest of your life in a self-confident manner is to visit Hair Hotel; the rest is our job…
Note: Since hair transplantation is a surgical operation, it is not performed in our center. We help our friends, who think about hair transplantation, through referring them to the physicians and clinics with which we have established a solution partnership.
Hemen Bilgi Al!
Formu doldurarak bilgi talebinde bulunabilirsiniz.